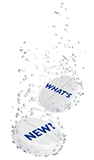 The pocket-sized AMH Aged Care Companion (Print) is being released for the first time since 2010.

This latest release contains evidence-based information on more than 70 specific conditions common in older people, with topics ranging from dementia management, delirium, cardiovascular diseases, stroke prevention and osteoporosis, to name a few. Health professionals can now choose between the book and online Companion as a reliable resource.
Click here for details and information on the special pre-publication price.
AMH Online + Mobile Package A Tidy Package At A Fantastic Price!


At the superb price of $235.00 (AMH Online: $180.00; AMH Mobile: $180.00) you'll be saving more on the AMH Online + AMH Mobile Package!

In addition, you'll also be enjoying easy access to AMH virtually anywhere, anytime!

A single username and password are all you need to access AMH via the internet on your desktop, laptop, tablet and smartphone.

Click here to find out how you can access your trusted resource quickly, easily and economically!




The Only National Evidence-Based Guide to Paediatric Medicine Dosing is Finally Here!


AMH Children's Dosing Companion is Australia's ONLY national online guide to prescribing and adminisitering medicines for young people in Australia.

The first release provides detailed dosing information on around 230 drugs. It covers more than 90% of current PBS paediatric prescribing in Australia, with dosages arranged by indications and/or age groupings from infants to 18 years, as well as other information on paediatric use. Content, including off-label use and other hard-to-find data, is evidence-based and peer-reviewed. More drugs will be added with each six-monthly update. The Companion is best used with an AMH Online subscription.

Click here to find out more or order online.