People
Staff
As a responsible corporate citizen, AMH Pty Ltd believes in conducting its business with a healthy dose of social conscience.
We run a dual management structure, with a General Manager and a Managing Editor reporting to a Board of Directors comprising two nominees from each of our three owner organisations. They lead a small, committed and qualified team of staff with broad work experiences in practical and/or academic areas, ranging from medicine, pharmacy, IT and marketing to administrative fields. In addition, our network comprising of over 100 reviewers throughout Australia complement our operations. Without a doubt, our human resources form the bedrock of our success.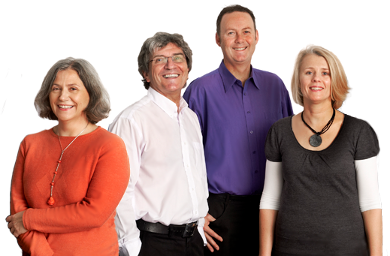 Simone Rossi, Jean-Pierre Calabretto, Craig Patterson, Alison Campbell
Chief Executive Officer
David Dart (BMan, FIPA)
Managing Editor
Simone Rossi (BPharm)
Editorial Projects Manager
Craig Patterson (BPharm Dip Hosp Pharm)

Manager - Quality, Strategy & Development
Jean-Pierre Calabretto (BPharm, MCS, PhD)
Business Manager
Alison Campbell (Ass Dip Comp Sc, Ass Dip Acc)

Senior Editors (Content)
Eve Hurley (BPharm)
Louise Sheridan (BPharm)
Team Leader - Publishing Production/Editor
Katrina Jones
(BPharm)
Team Leader - Aged Care Content/Editor
Jane Curtis
(BPharm)
Content Coordinator
Susan Piper (BPharm)
Editors
Eng Whui Poh (BPharm MClinPharm MClinSc)
Julie Walters (BScPhm MAppSc)
Leila Labandilo (BPharm)
Louise Quinn (BPharm)
Matthew Frith (BPharmSci[Hons] MPharm)
May Chin (BPharm GradDipClinPharm)
Neil Hotham (BPharm)
Renae Harris (BPharm)
Simon La Forgia (BPharm MClinPharm)
Tess Cardinal (BPharm[Hons])
Publishing Production Officer
Louise McDonald (Ass Dip Electronic Design & Interactive Media; Dip Fine Art & Design)
Team Leader -Development Gundeep Kaur Suri (BCA, MCA)
Senior Developer
Quentin Hartweg (BComInfSc [Hons], BMS)
Developer
Billy Lau (Bachelor of Engineering [Electrical & Mechatronic]; Master of Professional Computing)
Web/Application Developer
Simon Schulz (Cert SD)
Team Leader – Business Systems
Zena Jones (MCTP)
Systems Administrator
Sonny Pham
National Sales Manager
Darlene Davis
(Dip Management)
Accounts Officer
Phil Gardner
Administration Assistant
Ann-Marie McCormick

Eve Hurley, Susan Piper, Renae Harris, Quentin Hartweg, Billy Lau, Tess Cardinal, Darlene Davis, Louise Quinn, Louise Sheridan, Zena Jones, Jane Curtis, Julie Walters, Anne-Marie McCormick, Neil Hotham, May Chin, Katrina Jones, Louise McDonald
Board of Directors
Mr Anthony Nunan (Chair)
Tony Nunan is a former president of the Pharmaceutical Society of Australia (PSA). In November 1999 he was awarded the Distinguished Service Medallion of the Pharmacy Guild of Australia; in March 2000 he was made a Fellow of the PSA for his services to Australian pharmacy; and he currently serves on a number of industry boards and committees. Tony purchased his first pharmacy in the northern Victorian town of Kerang after graduating in 1976 and today owns and operates a number of community pharmacies as well as having interests in the finance, wine and property development sectors.
Professor David Le Couteur (Clinical Pharmacologist and Geriatrician)
Professor David Le Couteur is a clinical pharmacologist and geriatrician, currently Professor of Geriatric Medicine at the University of Sydney, Director of the Centre for Education and Research on Ageing (CERA), Director of the Biogerontology Laboratory of the ANZAC Research Institute and Senior

Staff Specialist Physician in Geriatric Medicine at the Concord Repatriation General Hospital in Sydney. He was president of the Australasian Society of Clinical and Experimental Pharmacologists and Toxicologists (ASCEPT 2011-2013) and is Secretary of the Clinical Division of the International Union of Basic and Clinical Pharmacology (IUPHAR). He has also served on several Australian Federal medicines committees.
Professor Andrew Somogyi
Andrew Somogyi is Professor in Clinical and Experimental Pharmacology at The University of Adelaide, Associate Dean (Research) in the Faculty of Health Sciences, and is a member of the Research Committees of the Royal Adelaide and Queen Elizabeth Hospitals. He has an international research track record in pharmacokinetics, drug metabolism, pharmacogenetics and pharmacogenomics. He is a former president and secretary of the Australasian Society of Clinical and Experimental Pharmacologists and Toxicologists.
Mr Grant Kardachi
Grant Kardachi is the current President of the Pharmaceutical Society of Australia. He is a community pharmacist who recently sold his business interests but is still accredited to undertake medication reviews and also sits on the board of the Australian Association of Consultant Pharmacy. His background as a successful pharmacy owner has provided him with a strong focus on the provision of professional services, and he is committed to seeing pharmacists' wide range of skills and experience more fully utilised in the Australian health care system, to ensure it remains sustainable and patients have the best possible health outcomes.
Dr Zena Burgess
Zena Burgess is the chief executive officer of the Royal Australian College of General Practitioners. She holds a PhD in psychology along with an MBA, a Master of Education, a Graduate Diploma in Educational Psychology and a Bachelor of Arts. Zena's first career was as an organisational and clinical psychologist.She later worked at various Australian universities as well as having a successful consulting career largely in areas related to personal and organisational change.

Professor Nigel Stocks
Nigel Stocks is Chair of the Council of the Royal Australian College of General Practitioners. He practises as a GP in the Adelaide hills, is Professor and Head of the Discipline of General Practice at The University of Adelaide, and Director of the Australian Sentinel Practices Research Network (ASPREN). His research interests include cardiovascular, respiratory and mental health.
Editorial Advisory Committee
Chairman
Professor Nick Buckley
(MD, FRACP)
Professor of Clinical Pharmacology, School of Medical Sciences, University of Sydney, NSW
Committee Members
Dr Helen Calabretto
(RN, RM, DipT, BEd, MEdSt, PhD)
Director - Clinical and Counselling Services Division, SHINE SA, SA
Professor Chris Del Mar
(MD, FRACGP, FAFPHM)
Professor of Public Health, Faculty of Health Sciences & Medicine,
Bond University, QLD
Dr John Dowden
(MBBS [UK], FRACGP, MRCGP, MICGP)
Editor, Australian Prescriber,
Canberra, ACT
Ms Simone Rossi
(BPharm)
Managing Editor,
Australian Medicines Handbook,
Adelaide, SA
Dr W Jane Smith
(MBBS,Grad DipFM, MHS, FRACGP)
Associate Professor, Faculty of Health Sciences and Medicine,
Bond University, QLD
Professor Andrew Somogyi
(PhC, DipHospPharm, MSc, PhD)
Discipline of Pharmacology, School of Medical Sciences, University of Adelaide, SA
Emeritus Professor Anne Tonkin
(BMBS, MEd, PhD, FRACP)
Adelaide Medical School,
University of Adelaide, SA
Associate Members
Ms Jane Booth
(BPharm(Hons), MPH, FSHP)
Formulary and Business Development Pharmacist, Monash Health, Vic
Mr Matthew Cervelli
(BPharm, CGP)
Clinical Pharmacist Specialist, Trinity Gardens, SA