Be informed with the 2022 AMH Book or Online
We are constantly improving and updating the AMH. Here are some examples of the recent changes that may interest you:
numerous new monographs including lemborexant (an orexin receptor antagonist) for insomnia, drospirenone, a progestogen-only oral contraceptive, and the new recombinant zoster vaccine
new indications, eg dapagliflozin for heart failure or chronic kidney disease, topical testosterone for postmenopausal women
new safety information, eg hypertension with erenumab
revised advice regarding statins in pregnancy
updated use of antiemetics with oral and IV cancer drugs
There is a summary of key changes, including all new and deleted drugs, in every edition. In AMH online, our useful tables now appear within the relevant pages (no need to click!), eg tables comparing lipid-lowering drugs, or combined oral contraceptives.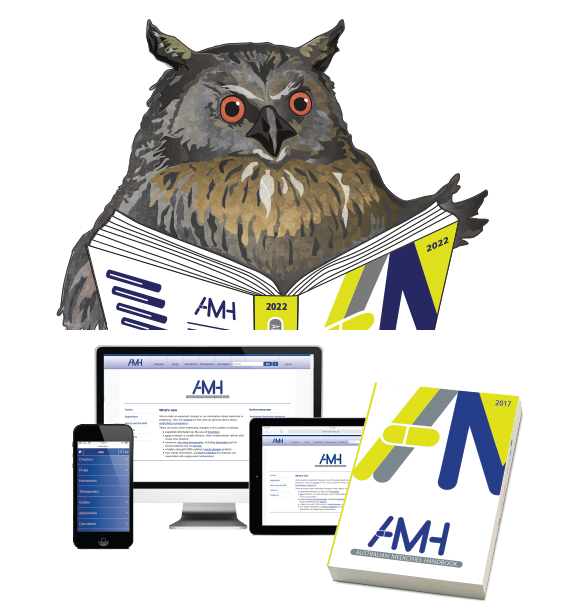 AMH Aged Care Companion – April 2021 online release
The AMH Aged Care Companion is our trusted, practical reference for health care professionals who work with older people.
The selected topics included in this companion reflect some of the most common illnesses and problems requiring drug treatment that confront the aged.
With every update, there are many changes to ensure the information remains current and relevant to the use of medicines in older people.
Changes in the April 2021 online release that may be of interest include:
updated topics including atrial fibrillation, chronic obstructive pulmonary disease, dry eyes, orthostatic (postural) hypotension, osteoporosis, stroke prevention
a new topic providing a practical guide to the use of oral anticoagulants that can be read in conjunction with the atrial fibrillation and stroke prevention topics.

AMH Children's Dosing Companion – July 2021 release
The July 2021 release of the print and online versions are available now. Changes include new monographs for:
the recently approved triple therapy for cystic fibrosis, elexacaftor/tezacaftor/ivacaftor
moxifloxacin for serious infections
ustekinumab for moderate-to-severe plaque psoriasis
The CDC has previously included doses for long-acting reversible contraceptives as these are preferred in adolescents, and this release includes information about levonorgestrel IUD.
Furthermore, a combined oral contraceptives monograph has been added to facilitate online linking to the AMH, where comprehensive information about contraceptive options can be found.
New dose added for a controlled-release melatonin product for insomnia in children with autism spectrum disorders or Smith-Magenis syndrome.
The Summary of key changes outlines several small changes to doses (some update existing doses due to new information, while others reflect product discontinuations). With every release, it is worthwhile to check this summary to see what is new: something you think you know and do not need to look up might have just changed!
Beware - buying electronic AMH products from other sources
Electronic versions of all AMH products are ONLY available for purchase from the AMH website. Any other website advertising the sale of AMH products may contain malicious software that may harm the integrity of your computer.
Likewise, any unauthorised email offer on these products could be spam. If you are unsure of its content, please delete the email and report the incident to us via support@amh.net.au
To buy AMH print products, please go to the support page of the AMH website and select AMH Stockists found under the heading Where to buy AMH products