AMH Children's Dosing Companion July 2018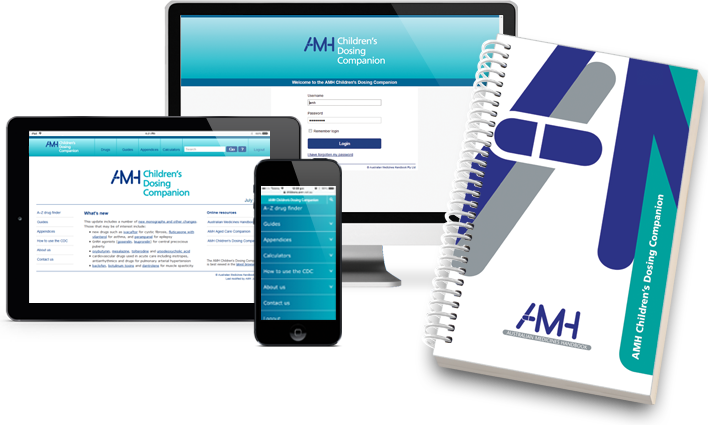 The July 2018 release of the book and online version are available now. Some changes in this update that may interest you include:
seven new monographs: citrulline, clopidogrel, diazoxide, parecoxib, rasburicase, rosuvastatin and sirolimus
new doses for lidocaine in cardiac resuscitation, valganciclovir in treatment and prevention of CMV disease, and some background to pregabalin doses used for neuropathic pain
advice about the safety of long acting beta2 agonists used for asthma in children has been amended in the

formoterol and salmeterol

monographs (and their combinations with corticosteroids) and in fluticasone furoate with vilanterol
the vaccinations table has been updated, particularly with changes relating to meningococcal vaccines
a diagram outlining the various terms used to describe age, before and after a child's birth, has been incorporated into the CDC. These terms are sometimes used interchangeably when this can be incorrect. This ready-reckoner will hopefully help those unsure about the terminology

AMH Aged Care Companion
Our trusted, practical reference for doctors, nurses and pharmacists who work with older people. April 2018 Book and Online edition changes include:
updated information on allergic conjunctivitis, dry eyes, gout, heart failure, hypertension, insomnia, osteoporosis, major depressive disorder, pain management, restless legs syndrome, rhinitis, rhinosinusitis (formerly sinusitis), along with changes to several other topics
Book contains new content on Age related macular degeneration.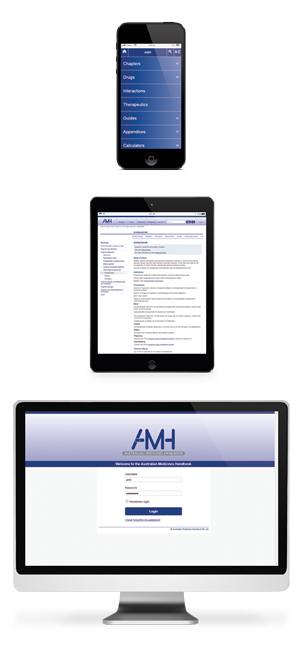 2018 Australian Medicines Handbook
The July 2018 release of the online version is available now. Some recent changes in this update that may interest you include:
first drugs for primary progressive MS (ocrelizumab) and fibromyalgia (milnacipran) and other new drugs, eg glecaprevir with pibrentasvir for chronic hepatitis C
new products, eg an inhaler for COPD delivering 3 drugs (umeclidinium, fluticasone and vilanterol)
safety information updated, eg expanded advice for monitoring and managing muscle symptoms with statins
recent evidence incorporated, eg renal outcomes with liraglutide and cardiovascular outcomes with gliptins in type 2 diabetes
Beware - buying electronic AMH products from other sources
Electronic versions of all AMH products are ONLY available for purchase from the AMH website. Any other website advertising the sale of AMH products may contain malicious software that may harm the integrity of your computer.
Likewise, any unauthorised email offer on these products could be spam. If you are unsure of its content, please delete the email and report the incident to us via support@amh.net.au
To buy AMH print products, please go to the support page of the AMH website and select AMH Stockists found under the heading Where to buy AMH products