Stay up to date with the 2018 AMH Book or Online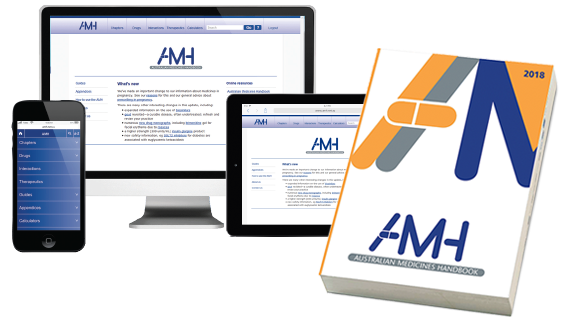 We're constantly improving and updating the AMH. Some recent changes included in the 2018 release that may interest you:
first drugs to slow progression of idiopathic pulmonary fibrosis: pirfenidone and nintedanib
numerous other new drugs, including suvorexant for insomnia
new safety information, eg reports of vertebral fractures after stopping denosumab
new evidence, eg pregabalin no more effective than placebo in sciatica
more advances in chronic hepatitis C, eg peginterferon alfa no longer used and new sofosbuvir combination tablets.

AMH Aged Care Companion
Our trusted, practical reference for doctors, nurses and pharmacists who work with older people. April 2018 Book and Online edition changes include:
updated information on allergic conjunctivitis, dry eyes, gout, heart failure, hypertension, insomnia, osteoporosis, major depressive disorder, pain management, restless legs syndrome, rhinitis, rhinosinusitis (formerly sinusitis), along with changes to several other topics
Book contains new content on Age related macular degeneration.

AMH Children's Dosing Companion
The January 2018 online release includes 13 new monographs including the new ADHD drug, guanfacine, and intranasal decongestants.
The dose of tramadol (particularly post-tonsillectomy or adenoidectomy) has been amended following FDA and Australian recommendations, and warnings regarding the risk of tramadol drops in children have been strengthened.
Advice regarding the use and effectiveness of levonorgestrel as emergency contraception in women whom are obese has been included.
All in all, this edition now includes information on over 400 drugs.
Beware - buying electronic AMH products from other sources
Electronic versions of all AMH products are ONLY available for purchase from the AMH website. Any other website advertising the sale of AMH products may contain malicious software that may harm the integrity of your computer.
Likewise, any unauthorised email offer on these products could be spam. If you are unsure of its content, please delete the email and report the incident to us via support@amh.net.au
To buy AMH print products, please go to the support page of the AMH website and select AMH Stockists found under the heading Where to buy AMH products