Stay up to date with the 2019 AMH Book or Online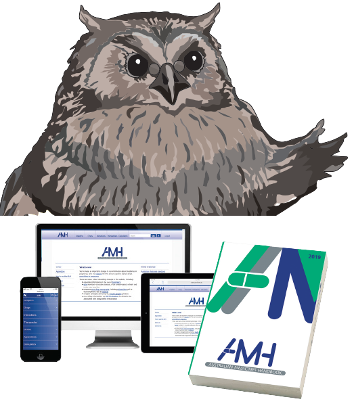 We're constantly improving and updating the AMH. Some of the updates in the January 2019 AMH that may interest you:
new drugs, eg benralizumab for asthma, baricitinib for rheumatoid arthritis and several new kinase inhibitors for cancer
expanded indications, eg denosumab for corticosteroid-induced osteoporosis, ixekizumab for psoriatic arthritis
details of sprue-like enteropathy with sartans, dopamine dysregulation syndrome with levodopa or dopamine agonists, and the serious risks of using opioids with pregabalin
other safety data including adverse effects after stopping drugs, eg vertebral fracture or hypercalcaemia with denosumab, withdrawal syndrome with dopamine agonists
new table with updated (sexless) scoring system for assessing stroke risk in non-valvular AF
insulins updated and now includes a new combination insulin product
new drug interactions, eg flucloxacillin may reduce efficacy of warfarin or voriconazole

AMH Aged Care Companion
Our trusted, practical reference for doctors, nurses and pharmacists who work with older people. April 2018 Book and Online edition changes include:
updated information on allergic conjunctivitis, dry eyes, gout, heart failure, hypertension, insomnia, osteoporosis, major depressive disorder, pain management, restless legs syndrome, rhinitis, rhinosinusitis (formerly sinusitis), along with changes to several other topics
Book contains new content on Age related macular degeneration.
CDC January 2019 Online Release
The January 2019 online release of AMH's Children's Dosing Companion includes 11 new monographs, including aprepitant, argipressin, brivaracetam, cyclizine, gliclazide, glycerol, loperamide, rituximab and tiotropium. Of note, a new monograph for potassium chloride outlines doses and strategies for safe use.
Two new doses have been added for the treatment of cystic fibrosis: there is a new monograph for hypertonic saline, as well as a new dose for lumacaftor/ivacaftor in children 6–12 years with cystic fibrosis homozygous for F508del mutation.
Advice around the use of drugs for bronchiolitis (adrenaline, hypertonic saline or salbutamol) has been updated according to new Australasian guidelines.
As with every edition, there are changes not otherwise mentioned that ensure the information in the Children's Dosing Companion remains current and relevant to safe and effective medicines use in children.
Beware - buying electronic AMH products from other sources
Electronic versions of all AMH products are ONLY available for purchase from the AMH website. Any other website advertising the sale of AMH products may contain malicious software that may harm the integrity of your computer.
Likewise, any unauthorised email offer on these products could be spam. If you are unsure of its content, please delete the email and report the incident to us via support@amh.net.au
To buy AMH print products, please go to the support page of the AMH website and select AMH Stockists found under the heading Where to buy AMH products