Stay up to date with the 2020 AMH Book or Online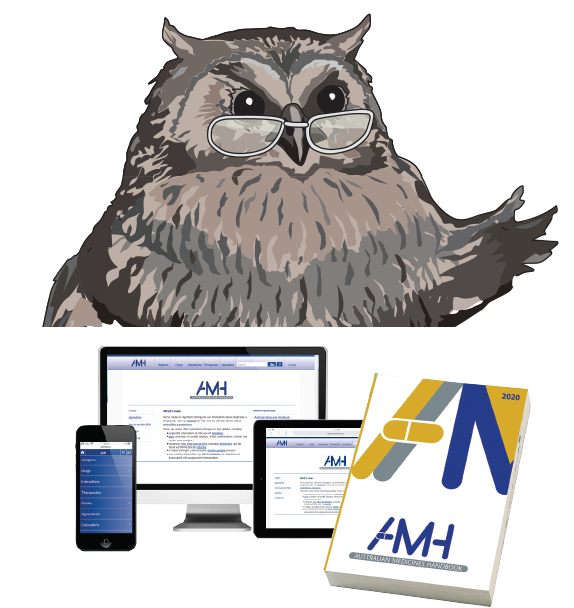 We're constantly improving and updating the AMH. Here are some of the updates in the January 2020 AMH that may interest you:
new drugs, eg safinamide for Parkinson's disease, fosfomycin for UTI, and a new class, PCSK9 inhibitors for hypercholesterolaemia
new preparations of old drugs, eg faster-acting insulin aspart, long-acting SC buprenorphine (for opioid dependence)
updated information on the risk of breast cancer with HRT and a new dose of famciclovir for shingles
new combination monographs for antiretroviral fixed-dose combination products
inhaled fluticasone -- separate monographs for fluticasone propionate and the more potent fluticasone furoate
Do you use our tables? By request, in AMH Online the list of tables for each chapter is expanded in the menu on the left-hand side of your screen.

AMH Aged Care Companion Online - April 2019 release
The AMH Aged Care Companion is our trusted, practical reference for doctors, nurses and pharmacists who work with older people.
With every update, there are many changes to ensure the information remains current and relevant to the use of medicines in older people.
Changes in the April 2019 online release that may be of interest include updated information on atrial fibrillation, gout, herpes zoster (shingles), immunisation, open-angle glaucoma, osteoporosis, Parkinson's disease, perianal conditions and caring for ageing skin

AMH Children's Dosing Companion January 2020 Online release
The January 2020 online release of AMH's Children's Dosing Companion (CDC) includes 11 new monographs together with numerous small changes that maintain the CDC's currency.
New monographs include the topical anaesthetic Laceraine® for suturing wounds, liraglutide for type 2 diabetes, methoxyflurane for acute pain, milrinone in low cardiac output states, and pizotifen and rizatriptan for paediatric migraine.
Treatments for cystic fibrosis continue to expand. In this release, there's a new monograph for tezacaftor/ivacaftor, while new doses for children as young as 1-year old have been added to ivacaftor and lumacaftor/ivacaftor.
The results of Australian research has contributed to a new dose for the continuous intravenous infusion of vancomycin.
Beware - buying electronic AMH products from other sources
Electronic versions of all AMH products are ONLY available for purchase from the AMH website. Any other website advertising the sale of AMH products may contain malicious software that may harm the integrity of your computer.
Likewise, any unauthorised email offer on these products could be spam. If you are unsure of its content, please delete the email and report the incident to us via support@amh.net.au
To buy AMH print products, please go to the support page of the AMH website and select AMH Stockists found under the heading Where to buy AMH products