2021 AMH Book or Online available now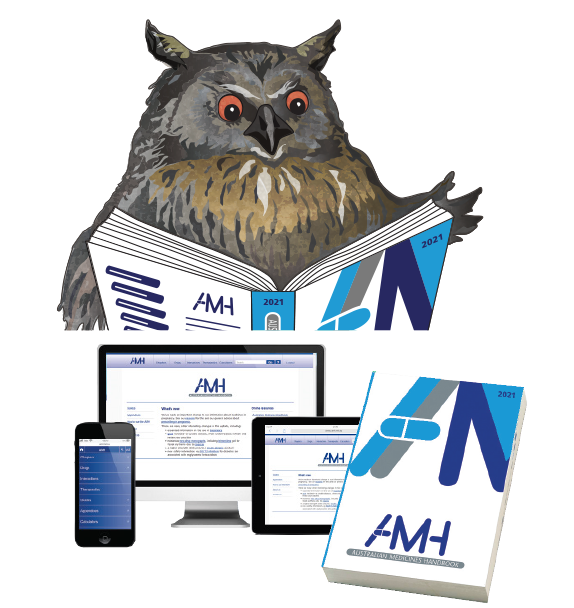 We are constantly improving and updating the AMH. Here are some examples of the recent changes that may interest you:
new monographs, eg semaglutide for type 2 diabetes, tafenoquine for malaria
new class for migraine prevention, calcitonin gene-related peptide antagonists, including new monographs for fremanezumab and galcanezumab
revised therapeutic information, eg for asthma, bipolar disorder
updated safety information, eg VTE with tofacitinib
more combination products now have separate monographs, eg empagliflozin with metformin.
There is a summary of key changes, including all new and deleted drugs, in every edition.
In AMH online, our useful tables now appear within the relevant pages (no need to click!), eg tables comparing lipid-lowering drugs, or combined oral contraceptives.

AMH Aged Care Companion – April 2021 online release
The AMH Aged Care Companion is our trusted, practical reference for health care professionals who work with older people.
The selected topics included in this companion reflect some of the most common illnesses and problems requiring drug treatment that confront the aged.
With every update, there are many changes to ensure the information remains current and relevant to the use of medicines in older people.
Changes in the April 2021 online release that may be of interest include:
updated topics including atrial fibrillation, chronic obstructive pulmonary disease, dry eyes, orthostatic (postural) hypotension, osteoporosis, stroke prevention
a new topic providing a practical guide to the use of oral anticoagulants that can be read in conjunction with the atrial fibrillation and stroke prevention topics.

AMH Children's Dosing Companion – Jan 2021 Online release
The January 2021 online release of the AMH's Children's Dosing Companion (CDC) includes new monographs for:
rivaroxaban, the first of the direct oral anticoagulants included in the CDC
esmolol, an intravenous beta-blocker, as well as carvedilol
two new anti-infectives: peramivir, a new intravenous drug for the treatment of influenza, and the antifungal, anidulafungin
two new antihistamine-corticosteroid nasal sprays for allergic rhinitis: azelastine with fluticasone and olopatadine with mometasone.
All of the drugs used in the treatment and prevention of asthma have been reviewed and updated in line with the latest Australian Asthma Handbook (Version 2.1). In particular, the use of budesonide with formoterol solely as symptom relief in adolescents with mild asthma has been included in that drug's monograph; this 'as-needed' dose is one of the biggest changes to asthma practice in recent times.
The first medicinal cannabis product has now been registered in Australia to treat rare paediatric epilepsies, and we have reviewed the information provided about cannabidiol in the CDC against the approved product information for this product.
Beware - buying electronic AMH products from other sources
Electronic versions of all AMH products are ONLY available for purchase from the AMH website. Any other website advertising the sale of AMH products may contain malicious software that may harm the integrity of your computer.
Likewise, any unauthorised email offer on these products could be spam. If you are unsure of its content, please delete the email and report the incident to us via support@amh.net.au
To buy AMH print products, please go to the support page of the AMH website and select AMH Stockists found under the heading Where to buy AMH products