Stay up to date with the 2017 AMH Book or Online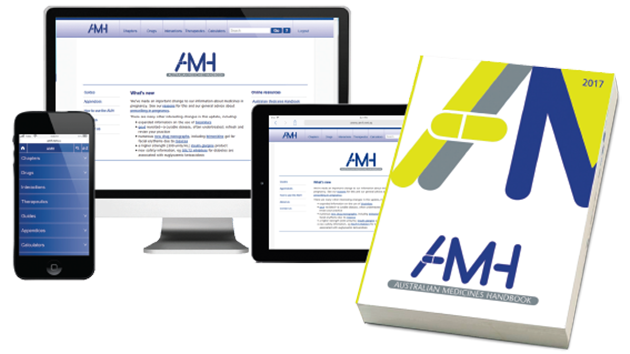 The 2017 edition includes:
more than 20 new drugs, including Ulipristal for emergency contraception, Idarucizumab for reversal of dabigatran anticoagulation and Paritaprevir with ritonavir, ombitasvir and dasabuvir for chronic hepatitis C
reviewed and updated therapeutic topics, eg Dyslipidaemia now includes evolocumab and a table comparing lipid-lowering drugs
new safety information, eg severe skin reactions with bromhexine
the online version now includes our NEW drug interactions facility which will list interactions between drug pairs or drug class pairs
As with every edition, there are hundreds of amendments, updates and additions in AMH 2017 that reflect the latest shifts in evidence and practice.

2016 AMH Aged Care Companion Book & Online
The AMH Aged Care Companion is a trusted, practical reference for doctors, nurses and pharmacists who work with older people.
The 2016 edition includes:
a topic on actinic keratosis, information on the process of deprescribing, which is important for optimising the use of medicines in older people
a simple diagrammatic guide to inhaler devices with links to instructions for use and considerations for choosing a suitable device in older patients.
Other topics reviewed include asthma, COPD, gout, hypertension, dyslipidaemia and dyspepsia.

2016 AMH Children's Dosing Companion
The July 2016 release of the online version is available now with the book to be released in early August.
This update incorporates:
new drug monographs such as

ezetimibe, mannitol, micafungin,

propofol and a range of

antiretroviral drugs for HIV

a review of antifungal uses and

doses, including amphotericin,

caspofungin, fluconazole,

flucytosine and voriconazole

details regarding name changes

to some drugs in Australia.
Beware - buying electronic AMH products from other sources
Electronic versions of all AMH products are ONLY available for purchase from the AMH website. Any other website advertising the sale of AMH products may contain malicious software that may harm the integrity of your computer.
Likewise, any unauthorised email offer on these products could be spam. If you are unsure of its content, please delete the email and report the incident to us via support@amh.net.au
To buy AMH print products, please go to the support page of the AMH website and select AMH Stockists found under the heading Where to buy AMH products