AMH Children's Dosing Companion — New edition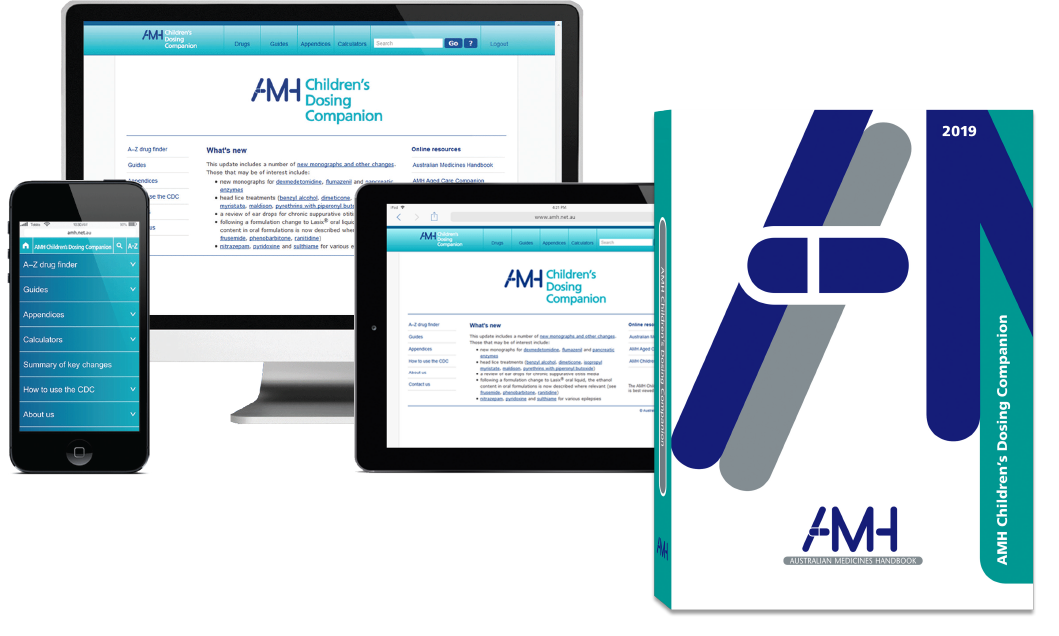 The July 2019 release of the book and online versions are available now. Changes include:
15 new monographs compared to the 2018 edition
Following the update to the Australian Asthma Handbook, doses for managing acute severe asthma have been revised, as well as a review of doses across all asthma medications, including a new monograph for tiotropium
Warnings have been added to insulin lispro and insulin glargine following the availability of new insulin strengths other than 100 U/mL. As insulin is associated with medication errors with serious consequences, the CDC offers advice around safe use of these higher strength presentations of insulin
New advice regarding doxycycline use in children and its effects on staining teeth
New doses for tacrolimus in the treatment of nephrotic syndrome, adalimumab for uveitis, tocilizumab for JIA
Numerous other changes ensure the Children's Dosing Companion remains current and relevant to safe and effective medicines use in children.

AMH Aged Care Companion Online - April 2019 release
The AMH Aged Care Companion is our trusted, practical reference for doctors, nurses and pharmacists who work with older people.
With every update, there are many changes to ensure the information remains current and relevant to the use of medicines in older people.
Changes in the April 2019 online release that may be of interest include updated information on atrial fibrillation, gout, herpes zoster (shingles), immunisation, open-angle glaucoma, osteoporosis, Parkinson's disease, perianal conditions and caring for ageing skin

Australian Medicines Handbook
The July 2019 release of the online version is available now. Some recent changes that may interest you include:
numerous new drugs, eg erenumab for migraine prevention, ertugliflozin for type 2 diabetes
newly revised therapeutic topics, eg chronic hepatitis B, asthma
updated drug safety information, including unusual adverse effects such as insulin autoimmune syndrome with clopidogrel and perineal necrotising fasciitis with SGLT2 inhibitors
more caution with insulins needed—another higher strength product is available
The summary of key changes (including all new and deleted drugs since the last update) is now accessible from the home page menu.
Beware - buying electronic AMH products from other sources
Electronic versions of all AMH products are ONLY available for purchase from the AMH website. Any other website advertising the sale of AMH products may contain malicious software that may harm the integrity of your computer.
Likewise, any unauthorised email offer on these products could be spam. If you are unsure of its content, please delete the email and report the incident to us via support@amh.net.au
To buy AMH print products, please go to the support page of the AMH website and select AMH Stockists found under the heading Where to buy AMH products