Be informed with the 2022 AMH Book or Online
We are constantly improving and updating the AMH. Here are some examples of the recent changes that may interest you:
numerous new monographs including lemborexant (an orexin receptor antagonist) for insomnia, drospirenone, a progestogen-only oral contraceptive, and the new recombinant zoster vaccine
new indications, eg dapagliflozin for heart failure or chronic kidney disease, topical testosterone for postmenopausal women
new safety information, eg hypertension with erenumab
revised advice regarding statins in pregnancy
updated use of antiemetics with oral and IV cancer drugs
There is a summary of key changes, including all new and deleted drugs, in every edition. In AMH online, our useful tables now appear within the relevant pages (no need to click!), eg tables comparing lipid-lowering drugs, or combined oral contraceptives.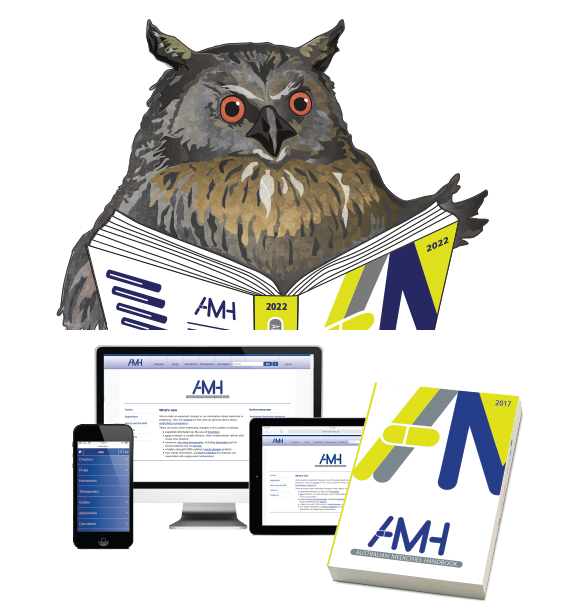 AMH Aged Care Companion – April 2021 online release
The AMH Aged Care Companion is our trusted, practical reference for health care professionals who work with older people.
The selected topics included in this companion reflect some of the most common illnesses and problems requiring drug treatment that confront the aged.
With every update, there are many changes to ensure the information remains current and relevant to the use of medicines in older people.
Changes in the April 2021 online release that may be of interest include:
updated topics including atrial fibrillation, chronic obstructive pulmonary disease, dry eyes, orthostatic (postural) hypotension, osteoporosis, stroke prevention
a new topic providing a practical guide to the use of oral anticoagulants that can be read in conjunction with the atrial fibrillation and stroke prevention topics.

AMH Children's Dosing Companion – January 2022 Online release
The January 2022 online release includes new monographs for:
dabigatran, the second DOAC to be included following rivaroxaban earlier in the year
dupilumab for asthma and eczema in children and adolescents
triptorelin, recently listed on the PBS for central precocious puberty
two new eczema drugs, crisaborole for mild eczema and upadacitinib for moderate-to-severe disease
older drugs including losartan, ofloxacin and sotalol.
A higher dose of adrenaline to treat anaphylaxis in people >50 kg has been added now that an appropriate strength formulation is available.
Other changes include new doses for lacosamide and perampanel for treating epileptic seizures, and new doses for cefuroxime and deferasirox following the availability of new formulations.
These less obvious changes are outlined in the Summary of key changes. With every release, it is a worthwhile exercise to check this summary to see what's new: something you think you know and don't need to look up might have changed!
Beware - buying electronic AMH products from other sources
Electronic versions of all AMH products are ONLY available for purchase from the AMH website. Any other website advertising the sale of AMH products may contain malicious software that may harm the integrity of your computer.
Likewise, any unauthorised email offer on these products could be spam. If you are unsure of its content, please delete the email and report the incident to us via support@amh.net.au
To buy AMH print products, please go to the support page of the AMH website and select AMH Stockists found under the heading Where to buy AMH products