Be up to date with the 2023 AMH Book or Online
We are constantly improving and updating the AMH. Here are some examples of the recent changes that may interest you:
COVID-19 updates, including more detail on COVID-19 vaccines and the oral treatments molnupiravir and nirmatrelvir with ritonavir
new monographs, eg eptinezumab for migraine prevention, diroximel fumarate for MS
revised therapeutic information, eg for psoriasis, heart failure, stroke
many new and revised drug interactions, eg aspirin + NSAIDs
There is a summary of key changes, including all new and deleted drugs, in every edition.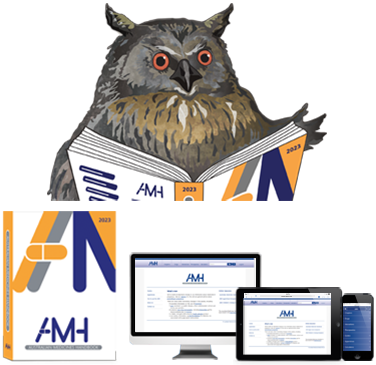 AMH Children's Dosing Companion – January 2023 Online release
This release includes 7 new monographs. Specific changes of interest include:
the first SGLT2 inhibitor used for type 2 diabetes in children, dapagliflozin, is included for children >10 years
treating severe allergic asthma with 'mabs' has expanded in the CDC with new monographs for benralizumab and mepolizumab, as well as expanding the dosing down to 6 years of age for dupilumab
two new drugs, somatrogon and mecasermin, have been added to the Growth Hormone Program to treat growth failure or short stature
a dose for adalimumab to treat paediatric ulcerative colitis
two new monographs for dimethyl fumarate and teriflunomide to treat multiple sclerosis in children
the approved paediatric uses for secukinumab have expanded to include juvenile idiopathic arthritis
revised advice of the preferred NSAID of choice (naproxen) to treat the arthritic pain associated with acute rheumatic fever.

AMH Aged Care Companion - April 2023 Online Release
The AMH Aged Care Companion is our trusted, practical reference for health care professionals who work with older people.
The selected topics included in this companion reflect some of the most common illnesses and problems requiring drug treatment that confront the aged.
With every update, there are many changes to ensure the information remains current and relevant to the use of medicines in older people.
This release has new content and a number of changes. Updated topics that may be of interest include benign prostatic hyperplasia, constipation, dyspepsia, fall prevention, heart failure, hypertension, oedema, osteoarthritis, peripheral arterial disease, prostatitis, stroke prevention and urinary tract infection.
Many small but important changes are made in every update of the ACC; these are outlined in the Summary of key changes. You should make checking this summary one of the first things you do with every new release.
Beware - buying electronic AMH products from other sources
Electronic versions of all AMH products are ONLY available for purchase from the AMH website. Any other website advertising the sale of AMH products may contain malicious software that may harm the integrity of your computer.
Likewise, any unauthorised email offer on these products could be spam. If you are unsure of its content, please delete the email and report the incident to us via sales@amh.net.au
To buy AMH print products, please go to the support page of the AMH website and select AMH Stockists found under the heading Where to buy AMH products.