AMH Children's Dosing Companion - New edition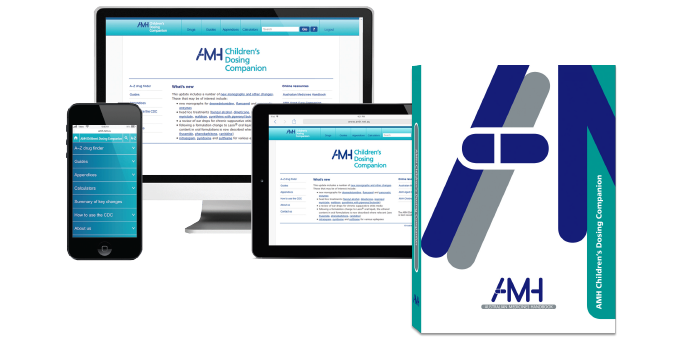 The July 2020 release of the print and online versions are available now. Changes include new monographs for:
fingolimod, the first drug for paediatric multiple sclerosis included in the CDC

a new basal-bolus combination insulin containing the ultra-short acting insulin aspart, together with a new long-acting component, insulin degludec
The safe use of domperidone continues to evolve. Doses for nausea and vomiting in children <12 years have been removed in accordance with international advice that the evidence of efficacy in this age group does not offset the potential for harm from adverse effects.
By request, we have researched and included an intranasal dose for clonidine use in pre-operative sedation/analgesia.
Numerous other changes ensure the Children's Dosing Companion remains current and relevant to safe and effective medicines use in children.

AMH Aged Care Companion - April 2020 release
The AMH Aged Care Companion is our trusted, practical reference for doctors, nurses and pharmacists who work with older people.
With every update, there are many changes to ensure the information remains current and relevant to the use of medicines in older people.
Changes in the April 2020 release that may be of interest include:
updated topics including behavioural & psychological symptoms of dementia, epilepsy, immunisation, nursing home-acquired pneumonia, urinary tract infections
a new appendix outlining medication issues for older people during extreme hot weather

Australian Medicines Handbook
The July 2020 release of the online version is available now. Some recent changes that may interest you include:
revised therapeutic information for dyslipidaemia and ADHD
new monographs, eg abemaciclib for breast cancer, tezacaftor with ivacaftor for cystic fibrosis
a new comparative table for drugs used in multiple sclerosis and a full monograph for oral cladribine
revised advice on the use of valproate and other antiepileptics during pregnancy
to make information easier to find, some combination products now have separate monographs, eg fluticasone with salmeterol
Do you know what's in that combination product? Have a look at our tables, eg antihypertensives, inhalers, combined oral contraceptives.
Beware - buying electronic AMH products from other sources
Electronic versions of all AMH products are ONLY available for purchase from the AMH website. Any other website advertising the sale of AMH products may contain malicious software that may harm the integrity of your computer.
Likewise, any unauthorised email offer on these products could be spam. If you are unsure of its content, please delete the email and report the incident to us via support@amh.net.au
To buy AMH print products, please go to the support page of the AMH website and select AMH Stockists found under the heading Where to buy AMH products