Australian Medicines Handbook
Australian Medicines Handbook is an evidence-based independent medicines reference preferred by thousands of clinicians in the Australian healthcare sector.
Our company, AMH Pty Ltd, publishes books and electronic reference resources aimed at improving the quality use of medicines.
An Australian owned company, based in Adelaide, our products are specifically created for health care practitioners across Australia.
Learn more about us...
Peer-reviewed and independent
Our editors are highly-qualified health professionals and our content is extensively peer reviewed.
The AMH Editorial Advisory Committee and reviewers are drawn from Australia's leading educational and medical institutions.
In order to maintain our independence, we accept no advertising, sponsorship or other forms of support from the pharmaceutical industry.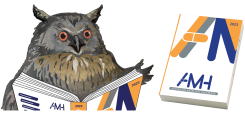 AMH 2023 Promotion Winners
Congratulations to all of the prize winners in this year's pre-publication promotion who will share in $28,140 worth of prizes.
The winner of the major prize, including travel and accommodation costs to a professional conference of their choice, is Care Point Pharma from Caroline Springs, Victoria.
For details on all of the winners and their prize information please follow the link below.